Since L8R's launch in 2004 it has WON 3 Awards including the 2008 BAFTA, and has been NOMINATED for 4 others.
AWARD WINS IN ADDITION TO BAFTA 2008
Basel_Karlsruhe Forum Multimedia Award 2007, University of Basel, Switzerland
The judges of this award said:
"Its clear educational aim, clear structure and community building activity made L8R the winner of the City of Karlsruhe Trophy".
UK Royal Television Society Interactive Education Award 2004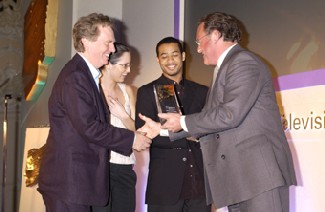 The judges of RTS Interactive Education Award said:

"The winner of this award engages its young audience in thinking and debating some challenging, but very real, issues....It presents some thought-provoking stories which are tackled in a sensitive, yet supportive way."
AWARD NOMINATIONS
BAFTA Children's Interactive 2006
BAFTA Schools Drama 2005
UK Royal Television Society Secondary Interactive 2005
Japan Prize 2004 (International, educational Media Award hosted by Japan Broadcasting Corporation)

For more details about L8R, or to register, click here